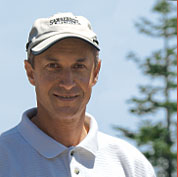 "To my mind, the most important thing in the Championship course is the terrain, because no matter how skillfully one may lay out the holes and diversify them, nevertheless one must get the thrill of nature."

-George C. Thomas, Jr.
(Golf Architecture in America, 1927)

John Harbottle was, quite literally, born into the game. The son of Pacific Northwest Hall of Fame golfers, he turned his early love for playing into a career developing world class golf courses.

He began his professional career in 1984 working on construction and design with the legendary Pete Dye. "Pete gave me the




opportunity to work in both the office and in construction. He showed me the importance of spending time in the field and of using a talented construction crew to perform the work."

A library of classical golf architecture books by Thomas, Mackenzie, Simpson, Hunter, Ross and McDonald had a profound impact on John's theories and style.

Early in his career, John traveled to the British Isles to study the great courses of Scotland and Ireland. He was inspired by the natural links courses and the way they were formed without the appearance of disturbing Mother Nature. Since that time, he has traveled the world, seeing many of its greatest courses. These experiences have helped John evolve a design style and philosophy all his own.
Harbottle, John Harbottle, Harbottle Design, Golf Course Design, Golf Course Architect, Golf Course Designer, Golf Course Architecture, ASGCA, Golf Course Renovation, Golf Course Redesign, Golf Course Renovating, Course Design, Course Architect, Harbottle Golf, John Harbottle Golf, Golf Course Design, Golf Course Designers, Golf Architecture, Golf Architects, Golf Course Architecture, Golf Course Architects, Harbottle Golf Course Design, John Harbottle Golf Course Design, Harbottle Golf Architecture, John Harbottle Golf Architecture, Harbottle Golf Course Architecture, John Harbottle Golf Course Architecture, Golf Courses by John Harbottle, Golf Course Renovation, Golf Course Remodeling, Golf Course Restoration, Golf Course Master Planning, New Golf Course Design, Northwest Golf Course Architects, Northwest Golf Course Designers, West Coast Golf Course Architects, West Coast Golf Course Designers, American Society of Golf Course ArchitectsMonarch Bay, San Leandro, CA, Hawks Landing, Madison, WI, ArrowCreek "Challenge", Reno, NV, BanBury Golf Club, Eagle, ID, Cinnabar Hills Golf Course, San Jose, CA, Izatys Golf and Yacht Club "Sanctuary", Onamia, MN, Izatys Golf and Yacht Club "Black Brook", Onamia, MN, Ridgecrest Golf Course, Nampa, ID, Resort Course at Genoa Lakes, Genoa, NV, Sunbrook "Black Lava", St. George, UT, The Golf Club at Genoa Lakes, Genoa, NV, The Olympic Course at Gold Mountain, Bremerton, WA, Stevinson Ranch "Savannah", Stevinson, CA, Palouse Ridge Golf Course, Pullman, WA, Juniper Golf Club, Redmond, OR, Timilick Tahoe, Truckee, CA, Dairy Creek Golf Course, San Luis Obispo, CA, Cascadia Golf Club, Bonney Lake, WA, Quigley Canyon Country Club, Hailey, ID, Tillamook Bay Golf Club, Tillamook, OR